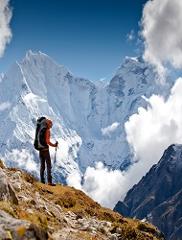 Nic Price, an Openreach employee from Kilburn, London, has accepted the challenge of trekking the Helambu trail in Nepal in aid of the Armed Forces and their families. The adventure will see the team of 16 cover hundreds of miles.
"I'm pretty active and enjoy squash and running. I am really keen on supporting charities, so I was happy to get involved with this for SSAFA."
Journeying through the un-explored Helambu region of Nepal, 72 kilometres north-east of Kathmandu, the group will trek from the 16th – 24th November 2018. Following a route through the Himalayan foothills starts and ends in Kathmandu, taking the team to breath-taking altitudes.
Every team member has been tasked with a minimum fundraising target of £3,250 for SSAFA, with all money raised going towards providing practical, emotional and financial support to the whole Armed Forces family.
SSAFA became Openreach's first formal Charity of the Year partner in 2015, kicking off a five-year partnership to harness the power of the Openreach community for positive change. The Openreach workforce is made up of more than 2,000 ex-service personnel, recruited over the past few years. The employees at Openreach have already raised over £161,700 since the start of the partnership.
You can show your support via the MyDonate page –mydonate.bt.com/events/openreachnepaltrek2018