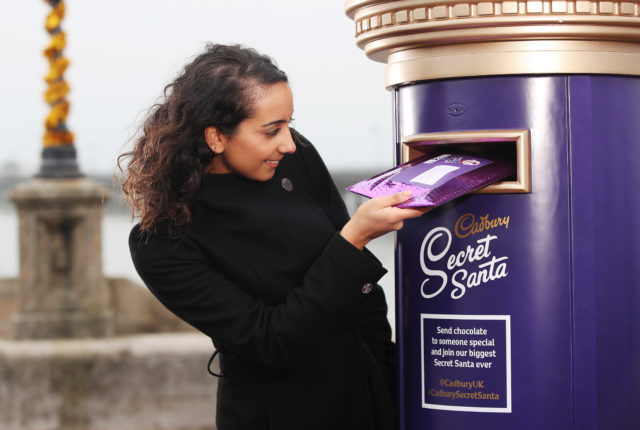 This Christmas, Cadbury is helping Brits unleash their generous instincts and become a Secret Santa by launching its very first Cadbury Secret Santa Postal Service. The entirely free service will provide visitors with the opportunity to send a delicious Cadbury chocolate gift anonymously to someone special in their life, just because.
The Cadbury Postal Service will be popping up in ten locations spanning the UK – starting in the Isle of White – ending in picturesque Edinburgh on 17 th December, stopping in various cities and towns along the way. Visitors will also have the chance to enjoy the delicious taste of Cadbury Dairy Milk whilst they await their Secret Santa status.
Secret Santas across the country can choose from one of the following delicious Cadbury chocolate gifts to send – the perfect gift for a family member, friend, your favourite colleague or a loved one – they will be posted anywhere in the UK;
Cadbury Dairy Milk
Cadbury Dairy Milk Whole Nut
Cadbury Dairy Milk Caramel
Cadbury Dairy Milk Fruit and Nut
Cadbury Dairy Milk Winter Edition
So get in the Christmas spirit and become Secret Santa for the day and send a delicious Cadbury chocolate gift to someone special, just because. The Cadbury Secret Santa Postal Service follows the launch of Cadbury's magical new Christmas campaign, which celebrates the thoughtful and generous ritual of Secret Santa – as seen in its new TV advert which urges families across the UK to follow their
generous instinct and become a Secret Santa this Christmas.
Available on a first come, first-served basis, there is no need to book to get involved.
Event details:
30th November – 1 st December – Riverside West, Riverside Walkway (by Gabriel's Wharf), South Bank, London, SE1 9PP (10.30am – 7.30pm)