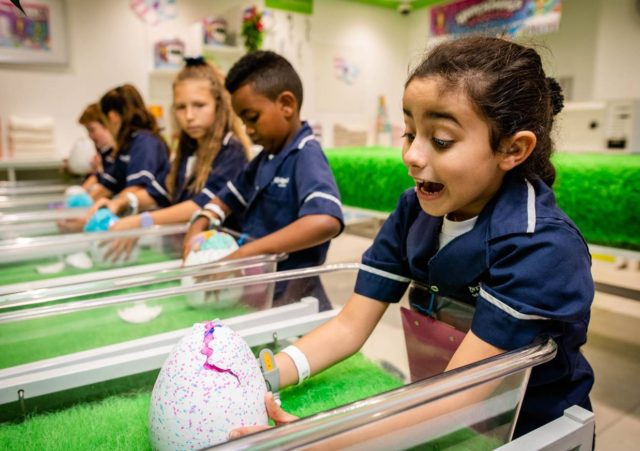 Spin Master Ltd. (TSX: TOY; www.spinmaster.com), a leading global children's entertainment company, kicked off celebrations for the third annual Hatchimals Day, Oct. 5, by revealing the latest members of the Hatchimals® family, theHatchiBabies™, on "The Ellen DeGeneres Show".  An iconic promoter of kindness and love, Ellen was the perfect person to announce the arrival of the new HatchiBabies to the world.
Discovering if you have hatched a boy or a girl is just the beginning of the surprises inside the egg. Just like real babies, they respond to being fed, burped, tickled and snuggled. HatchiBabies can even learn to talk and play games like "find my toes" and "bouncy baby"! For the first time ever, HatchiFans will find hidden accessories inside the iconic egg including a rattle, hairbrush, bottle and cuddle buddy, to help care for the HatchiBabies. Each HatchiBaby also comes with a high chair and birth certificate. With big colour-changing eyes, beaks that move and fun accessories these forever babies are sure to be a hit for those on your shopping list this upcoming Christmas season.
"HatchiBabies are filled with new surprises and play elements that we are excited to share with fans across the world this Hatchimals Day and holiday season," said James Martin, Spin Master's Senior Vice President, Robotics Global Business Unit. "We are proud of the continued enthusiasm from our HatchiFans and look forward to seeing them welcome the latest addition to the Hatchimals family."
HatchiBaby fever is spreading across the nation with events to celebrate the third annual Hatchimals Day. Fans can visit the new arrivals at the KidZania London Hatchy Nursery – a takeover for the weekend of 5-7th October of the Luvabella Nursery, at the popular children's attraction at Westfield, White City, London.
Already named on top Christmas Gift lists, HatchiBabies are now available online and in-store at retailers across the UK. (SRP £59.99). To learn more about Hatchimals please visit:
Website: www.hatchimals.com