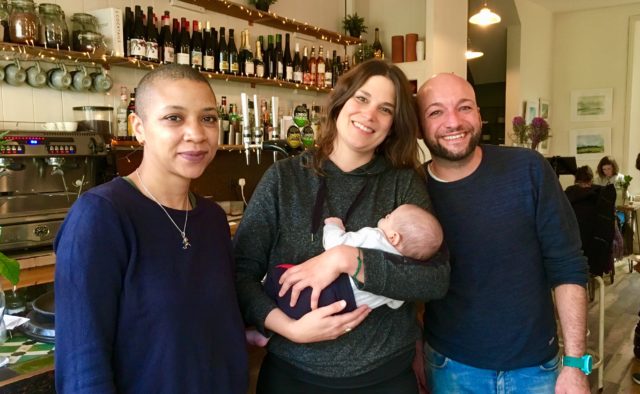 Baby Robyn is the icing on the Christmas cake at the end a brilliant 2018 for Southwark Business of the Year winner Melissa Harwood.
The young entrepreneur was pregnant with Robyn when her East Dulwich restaurant Spinach took the top prize at the first ever Southwark Business Excellence Awards Gala Dinner and Charity Ball last June. But her 2018 success story didn't finish there. Robyn arrived in September to keep the young entrepreneur on her toes.
Now Melissa's busy preparing for her second 'baby' – the opening of new restaurant, Baby Spinach, in January.
Melissa, 32, had only opened her first restaurant on Lordship Lane, 18 months before she picked up the Best Food and Hospitality Award at the glitzy business awards ceremony in the Hilton London Bankside on 21st June. But she was totally "stunned" when Spinach went on to win the night's premier prize.
The Awards judges praised Spinach's excellent customer service and "overwhelming sense of community spirit… they have strived to do the right thing, not just for themselves but for the people of Southwark" by employing local people and sourcing local ingredients and produce.
"We all worked so hard to get the business off the ground – it was really stressful and challenging at times," said Melissa. "But we have the loveliest customers, who have supported us right from the start – I've made so many good friendships here. It's a real community business."
Melissa's next venture, Baby Spinach will open in January at the new Streatham High Road studio being launched by Peckham-based Yogarise, and Element Fitness.
Despite being so busy with two new "babies" Melissa says she will still find time to apply to the 2019 Southwark Business Excellence Awards.
"I would encourage all businesses to enter – it's so good for the community and a morale booster for staff," said Melissa.
The 2019 Southwark Business Excellence Awards will launch at a prestigious reception in the Shangri-La Hotel At The Shard on Thursday, 24thJanuary.