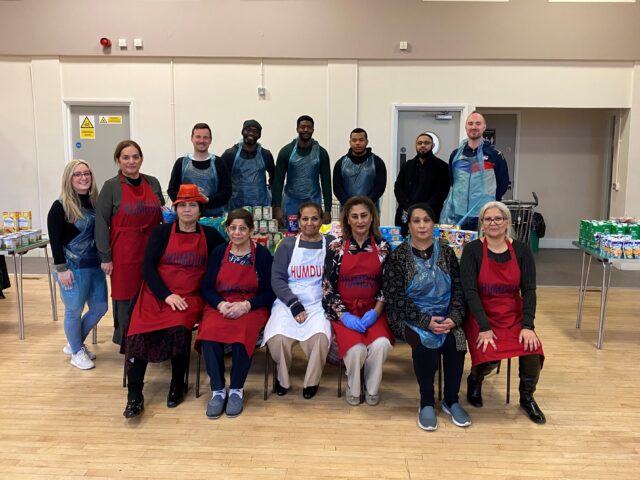 The record-breaking year of giving concluded in December with the airport's annual '12 Days of Giving' volunteering drive, which saw 74 members of staff give 592 hours of their time to charities, organisations and initiatives in Newham and neighbouring London boroughs. This was an increase of 111 percent on the 280 hours given in 2018.
The festive period's volunteering supported 9 local good causes (details below). It followed the airport's largest ever Volunteering Fortnight, which took place in June 2019. During two weeks last summer 83 members of staff, including Chief Executive Robert Sinclair, gave 660 hours of time to support local organisations and initiatives across the boroughs of Newham, Redbridge, Tower Hamlets and Hackney. This was a 65% increase in volunteer hours compared to the 2018 fortnight.
'Other' volunteering hours totalled 682 hours in 2019, reaching 2,357 students along the way.
Aaron Uthman, Community Relations Ambassador for London City Airport, said:
"Helping local good causes is a really important part of our commitment to be a good neighbour, investing in our local communities and making a positive contribution to organisations on our doorstep. With 65 percent of staff employed on-site at London City Airport coming from within five miles of the airport, supporting the local area is something that's close to people's hearts here."
Another major volunteering and giving initiative in 2019 was the airport's first 'Women In Aviation' programme. Part of the airport's wider agenda to create a better gender balance across the business and show how the sector offers an attractive career path for young women, including those from BAME communities, the programme took place in April and involved 300 female pupils from East London secondary schools.
Aligned to this, London City Airport also held its fourth annual 'STEM in Aviation Day' at the ExCel centre in November. Aiming to inspire the next generation of aviation innovators and entrepreneurs, over 450 East London school pupils aged 14 to 16, from 22 different schools, took part in science, technology, engineering and maths (STEM) skills challenges looking at the future of flight.
Staff also supported The World of Work Week in Spring last year – a comprehensive whole schools careers programme for primary schools, organised by 15billionebp. The airport hosted local primary school children, showing them how an airport works behind the scenes with the aim of raising aspirations when children are forming their ideas and placing themselves in the social sphere.
As well as employees giving their time and energy to good causes, the airport has also given cash funding.
London City Airport's newly established Community Fund awarded £75,000 to 30 charities and not-for-profit organisations from 10 different London boroughs. The first round of grants distributed £40,000 in September, while a second round in November distributed £35,000 to support a broad range of initiatives that enable positive and significant change within and across diverse communities in East London. Beneficiaries include mental health charities, disability groups, sports teams, family support organisations, mentoring programmes and employability training.
Amongst the beneficiaries were Just Enough Global, whose submission stood out because of its clear focus on education programmes for young people in Newham, helping to build stronger, safer local communities close to the airport. Home-start Havering, a charity working to provide tailored practical and emotional support to vulnerable local families, have also received a grant to fund more volunteers in their area.