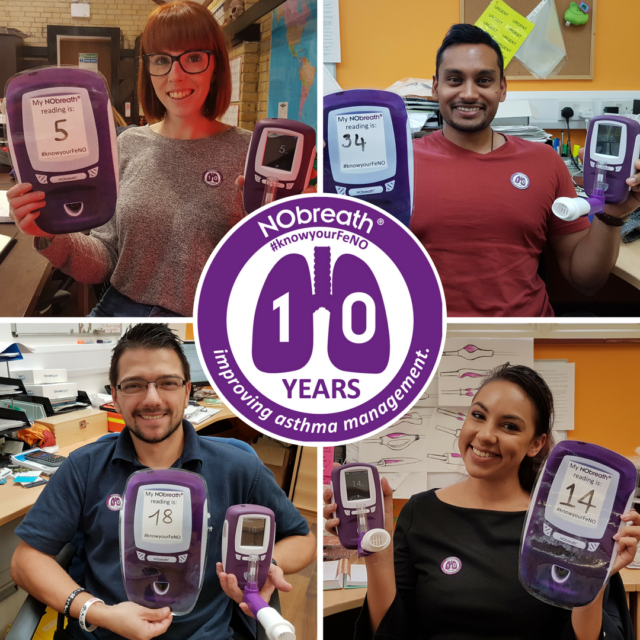 Multi-award winning British company celebrates 10 years of improving asthma management at the largest meeting of the respiratory world, ERS
To celebrate 10 years of improving asthma management with their NObreath® FeNO monitor, Bedfont® Scientific Ltd. are giving you the chance to win a NObreath® at the ERS Congress.
Regarded as the largest gathering of respiratory professionals worldwide, this year the European Respiratory Society (ERS) will be congregating in Milan between 9-13th September. Medical device manufacturer, Bedfont®, who launched their NObreath® FeNO monitor, for improving asthma management, at ERS 2007 are returning 10 years later to celebrate the 10th birthday of the NObreath® at the 2017 ERS Congress, by hosting a competition where one lucky winner can win their very own monitor.
Entrants simply have to take a NObreath® FeNO test and have their photo taken with their FeNO reading to be included in the prize draw. All participants will also receive a free gift and additional entries can be gained by liking and sharing their picture on social media using the hashtag #knowyourFeNO.
Jason Smith, General Manager at Bedfont Scientific Ltd, explains, "Nitric Oxide is naturally produced by the lungs to combat airway inflammation, therefore FeNO levels are higher in people with asthma and, by measuring these levels during diagnosis and management of the disease, it can improve basic asthma care."
He adde "We are proud to have spent the past 10 years perfecting FeNO monitoring to be able to provide not only an affordable technology but also a quick, easy and non-invasive procedure for both the GP and the patient, to improve asthma management."
For more information on the NObreath®, the competition or to read the full terms and conditions, please visit www.bedfont.com/10yearsofNObreath®