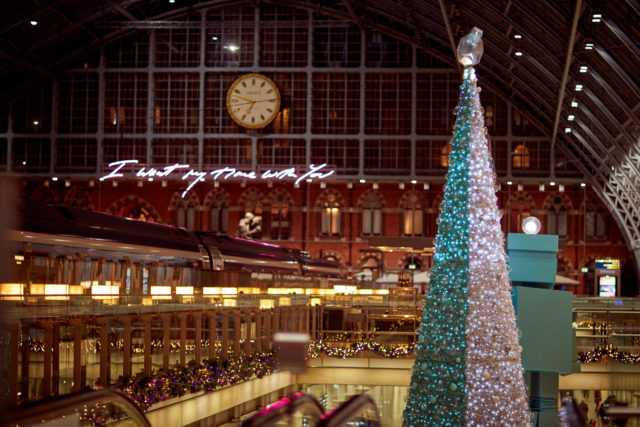 Tiffany & Co. and Coty have partnered with St Pancras International to unveil its first scented Christmas tree and fragrance shop in the heart of the iconic London station, offering a touch of sparkle, sophistication and magic for the holiday season.
The magnificent 43-foot Tiffany tree embodies the brilliance and modern creativity of the legendary jewellery house, taking centre stage on the station's concourse from 12th November 2018 to 4th January 2019.
The sparkling floral scent of Tiffany & Co.'s Signature Eau de Parfum fragrance will be diffused from the tree at key intervals each day, creating a unique immersive sensorial experience for holiday shoppers and beautifully illustrating that Tiffany is #AllYouNeed this Christmas.
The innovative tree design brings to life the magic of Tiffany's holiday advertising campaign, "The Holidays Made by Tiffany". At the heart of Tiffany's theme this year is the holiday hero – a chrome articulated drawing figure first seen in the legendary Gene Moore's 1960s imaginative window displays for Tiffany.
Set against the backdrop of a whimsical holiday construction scene, the holiday hero stands atop a 17-foot animatronic robot constructed from Tiffany Blue Boxes, helping to put the finishing touches on the tree. These whimsical figures share their love of the holidays by preparing for the gift-giving season with the construction of a gift for London commuters and tourists: The Tiffany & Co. scented tree and fragrance.