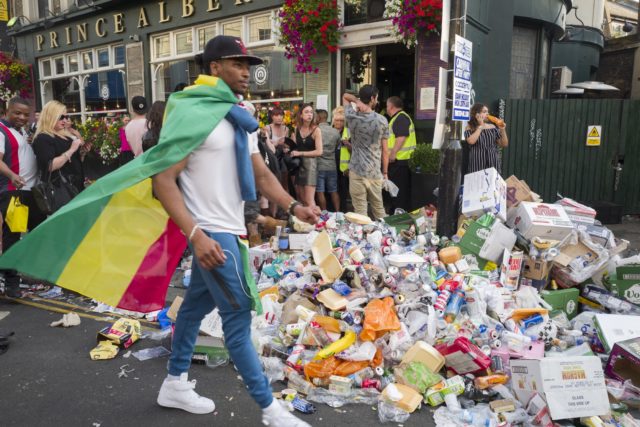 Revellers at the Notting Hill Carnival wouldn't have spared a second's thought for the miles of mess they left behind.
As many as two million people are thought to have attended the two-day celebration – now recognised as one of the largest events of its kind in the world.
But they also created a vast mountain of rubbish that needed to be cleared as quickly as possible.
And it's wasn't until the majority of party-goers had at last headed home that a major clean-up operation could get underway.
Roads, pavements and public areas stretching along the parade route to the main site in Ladbroke Grove remained a hive of activity well into the early hours of Tuesday morning as an army of street cleaners and refuse staff, led by a convoy of specialist vehicles, moved in.
Rain showers over the two days meant Carnival-goers had left a legacy of damp foliage, debris and litter – including cans, bottles, cups and fast-food cartons.
But 10 road sweeping vehicles, complete with expert operators, worked through the night on both Sunday and Monday to help clear the area in double-quick time.
The rubbish was taken to a site owned by a waste management firm, where it was sorted and later recycled as much as possible.
The clean-up operation, led by contractors working for the Royal Borough of Kensington and Chelsea, covered an area from Holland Park Avenue and Notting Hill Gate to borough boundaries to the East, North and West.
The road sweeping activity was spearheaded by Go Plant Fleet Services, which has helped to carry out the big clean-up for more than five years from its London depot.