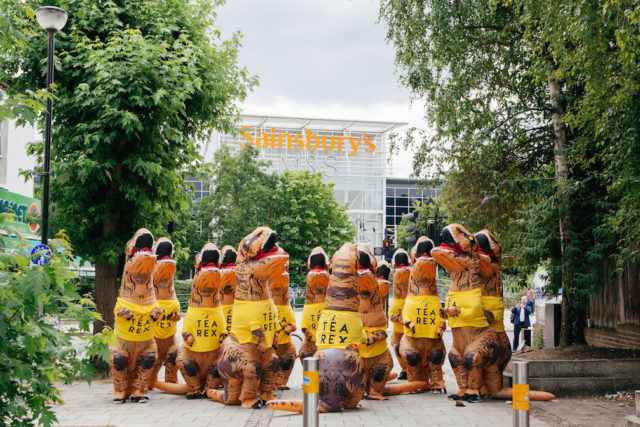 Wimbledon-based dad of two, Andrew Walker and a gang of 20 of his mates descended upon Merton's Sainsbury's, dressed in mightily silly T Rex suits to surprise and delight shoppers.
Andrew believes the world of tea to be dry and boring; he's bringing colour, flavour and fun to Infusions so he's celebrating the launch of his TEA REX Infusions into Sainsbury's, dressed as an 8'2 dinosaur, to bring a smile to flagging shoppers. As part of his flash mob, Andrew wanted to champion dyslexics in business, he will be donating profits from the next seven days (from 16th July) of sales to a dyslexia charity and offering a paid internship for a young dyslexic in need of a mentor; no CV required, all they need to do is send in a one minute video application. All was captured on film; see TEA REX's antics here.
As a dyslexic, Andrew operates on the basis that actions speak louder than words so why not don a comedy dinosaur suit in the name of a decent fruit-filled cuppa? As the world's third largest tea drinking nation, Andrew wants Brits to drop one of their usual beige bland brews for a flavour-packed fruit infusion to kick start their day and, as 10% of the country that are challenged by reading and writing, he wants to spread the message that business welcomes dyslexics.
Andrew said, "School can be tricky for those who struggle with language and communicating ideas on paper, I wanted to use the way we launched our game-changing, vibrant infusions to bring attention to the wealth of creative careers open to young people with dyslexia. This launch with Sainsbury's Taste of the Future is momentous for TEA REX, what better time to shine a light on a message that can resonate with young people who may need that confidence boost. There can be some trepidation about entering the world of work for those who struggle with written work at school, so I wanted to offer this one month internship to local youth who could do with the mentorship needed to sky rocket in their chosen career. The startup world is ideal for people buzzing with big creative ideas, a sleeves rolled up attitude and those willing to learn on their feet – all I ask is for a one minute video pitch telling me why you'd like to work with TEA REX!"
Mankind has been brewing up tasty and revitalising infusions ever since the dinosaurs were about, TEA REX is leading the infusion revolution with the world's first 100% fresh fruit and root infusions. Currently launching to Sainsbury's as part of their first Taste of the Future campaign, the Great Taste Award winning varieties include finely chopped Turmeric, Lemon Ginger & Black Pepper; Lemon, Turmeric, Ginger & Lemongrass and Rhubarb, Ginger Redcurrant & Lemon infusions (RRP £4.49).
Let's be honest, fruit teas never taste as good as they smell, rather than the typical bag of dried fruit, TEA REX provides sachets of ethically sourced, powerfully flavoured fresh and juicy fruits and roots, which are chopped and packaged in a single serving ready for infusing with hot or cold water. One serving of TEA REX has 20g of fresh fruit compared to a normal teabag, which has 2g of dehydrated ingredients. Just think, when was the last time you had powdered egg or milk? TEA REX has created infusions with 7x more fresh fruit, packed with zingy flavours and natural goodness.
There's a sense of ritual to enjoying a TEA REX, taking a few minutes out of your day to mindfully unwind and brew your sumptuous smelling tea; within your pack of TEA REX you will find an innovative little tea infuser, sourced from the home of tea ceremony, Japan; set it upon your teacup for a fruit infusion that actually tastes as good as it smells!
TEA REX's infusions are designed to be a livening morning boost, an afternoon pick-me-up and as a soothing aid for seasonal allergies and colds. The sachets are packed with fresh ingredients including the attractive orange-coloured Turmeric, known for its anti-oxidant and anti-inflammatory properties; vitamin C-packed fresh lemon; lemongrass, with its inviting citrusy aroma and antibacterial and antifungal properties as well as fiery ginger, which can be a great natural ingredient to relieve nausea and inflammation.
Look out for TEA REX at Sainsbury's, Ocado and Amazon as well as on their own web shop, or perhaps lurking, dressed as 8 dinosaurs, in a supermarket near you…!