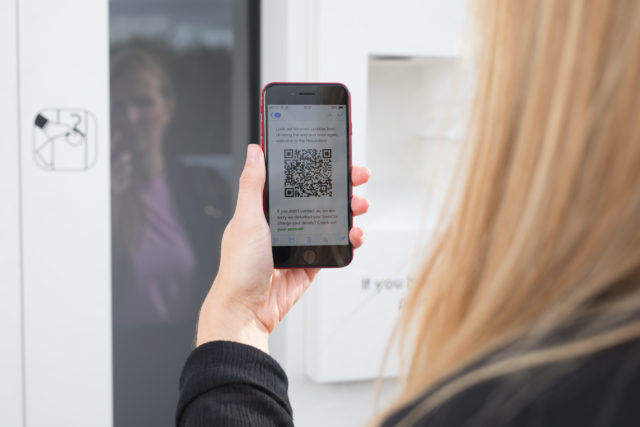 VDrops, the UK's first entirely 100% green-cleaning vending machines for clothes have hit the UK, with the first one installed at Epping station that will go live this Saturday 6th October, with more being rolled out on London Underground for commuters. The machines, powered by VClean Life, aim to clean up the UK's dry cleaning sector by bringing it into the 21st century.
The "drop-and-go" style vending machines act as a gateway to the new green-cleaning revolution, enabling Brits to simply drop-off their dirties at VDrop machines and collect them 24 hours later at a cost of just £3 per garment. Following its successful launch at Epping station this morning, Transport for London (TfL) has plans to install them at a number of London Underground stations across the capital, including North Greenwich, Loughton, South Woodford and Woodford, with more to follow.
With technology at the heart of the revolution, users simply need to sign up online at www.vclean.life to receive their unique QR code, then use the QR at the VDrop machines to 'book in' their dirties. VClean Life's fleet then pick up the garment(s), where they are cleaned using biodegradable detergent and conditioners in a process that is more gentle than handwashing. Each item is then beautifully hand-finished.
VClean Life's unique tracking system, which uses cameras, barcodes and soon RFID technology, enables customers to track their garments via mobile or online, before users can collect their item just 24 hours later.
These new machines will be completely disrupting the current 'dirty' laundry sector that hasn't changed for decades to promote a future without perchloroethylene (PERC), the dry cleaning chemical known to cause cancer, neurological disorder, kidney and liver damage and is so toxic, it must be buried in containers in waste sites across the county.
Nick Harris, Managing Director and Founder of VClean Life comments: "We are transforming the dirty dry cleaning sector, by making green cleaning accessible with VDrops now hitting the high street. There is nothing else like this on the market. In just 24 hours customers will receive a premium service at ridiculously cheap prices, with 200 machines being rolled out across London in coming months, before going national. We are thrilled that Transport for London will be the first to roll them out to commuters across the capital."
Garments cost just £2.50 – £3.00 per item to clean (suede, leather fur etc. will cost slightly more, but still be exceptionally inexpensive). VClean Life only uses biodegradable soap that keeps fabrics bright and undamaged. It's a premium laundry service, for an un-premium price that also offers exceptional convenience.