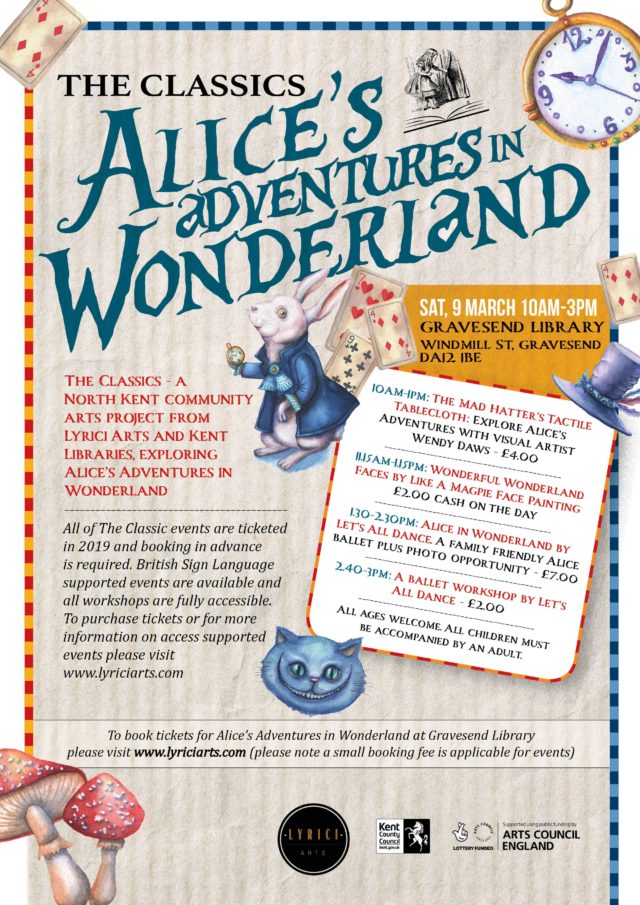 Lyrici Arts and Kent County Council are excited to announce that they have been awarded a project grant from Arts Council England to run a community arts engagement programme in North Kent libraries in 2019 called The Classics. The Classics is supported using public funding by the National Lottery through Arts Council England.
The Classics project will run from February to May 2019, with 15 North Kent libraries exploring and celebrating a famous children's classic – Alice's Adventures in Wonderland. The programme will feature a touring ballet to three of the larger libraries, a series of professional and staff led creative workshops, a life-sized Mad Hatters Tea Party installation; and staff training and professional development for libraries. A best practice toolkit will also explore effective ways to diversify new library arts activities in Kent and unite communities. The public activity is cross artform and for people of all ages.
Themed Alice community days will take place across March 2019 in three of the main North Kent library locations, Gravesend, Dartford and Faversham, with a selection of additional Alice library led craft activities taking place throughout April 2019 in smaller selected district libraries.
Community events include five professional workshop sessions within the areas of tactile arts, mask decorating, and art and design by Kent based award winning workshop facilitators; face painting, ballet workshops, a touring Alice in Wonderland ballet production and a life sized Mad Hatters table installation reveal, featuring four life sized character installations of The White Rabbit, The March Hare, The Cheshire Cat and The Dormouse. The Installation reveal will take place alongside an interactive community Mad Hatters Tea party with tea and cakes.
Clara Augustus of Lyrici Arts, said "We are very grateful to receive this project funding from Arts Council England and we are pleased to be working with Kent Libraries to deliver their first Arts Council library project of this kind in the North Kent Area. Alice's Adventures in Wonderland by Lewis Carroll is a book that is one of the most popular and most widely quoted and translated children's books ever written; and which marked the birth of modern children's literature in 1865. We chose to focus on this book as it allows the community to explore the story of Alice through many varied artforms, enabling everyone to celebrate and experience high quality arts in the safe, familiar, accessible environments of Kent library buildings. We are delighted and excited to deliver this programme of work alongside Kent Libraries, where stories and storytelling is already ingrained into their buildings"
Kent County Council's Service Manager for Dartford Gravesham and Swale Libraries Registration & Archives, Matthew Kerr said: "We are very excited to be hosting a programme of artistic events in our libraries. Delivered by our partners, Lyrici Arts, and featuring local professional artists, the events will be themed on the well-loved classic book Alice in Wonderland, which we hope will engage and delight our customers of all ages." Matthew Kerr.
All of The Classic events are ticketed in 2019 and booking in advance is required. British Sign Language supported events are available and all workshops are fully accessible. To purchase tickets or for more information on access supported events please visit www.lyriciarts.com