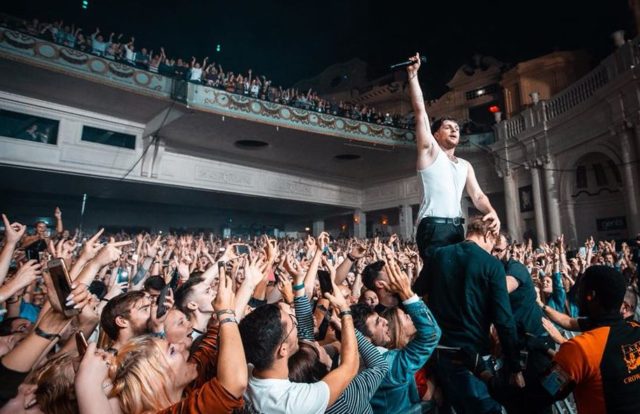 Save the Children has today announced that music artist Tom Grennan will host a Christmas Jumper Jam on Tuesday 11th December in celebration of the charity's annual Christmas Jumper Day fundraiser.
You could be in with the chance of being one of just 60 guests at this intimate gig held at Benk & Bo in Aldgate, East London when tickets go on sale at 10:00 on Monday 26th November at a cost of £15.00.
Christmas Jumper Jam is bookable as an Airbnb Concert hosted on the Airbnb platform. The gig will be hosted as a Social Impact Experience meaning that Airbnb will waive their service fee and 100% of the proceeds from the ticket sales will go directly to Save the Children to give children here in the UK and across the world hope for a better future.
Tom will be helping to make the world better with a sweater by acoustically performing a select few tracks from his 'Lighting Matches' album, all whilst wearing his favourite winter woolly. He will be supported by Elli Ingram and Grace Ackerman.
Tom says: "2018 has been a good one. I've launched my album, played a lot of festivals and my Brixton Academy gig sold out. So, I'm ending the year by giving something back with a charity gig for Save the Children and its Christmas Jumper Day. It's a great cause – they help children here in the UK and all around the world. They're helping out in Yemen, which if you've seen in the news, is in a really bad way. Thousands of children are dying because they don't have enough food to eat. I'm hoping my gig can raise a few quid for these kids this Christmas."
Guests are strongly encouraged to join Tom on the evening and wear their most novel knit. If you don't already own a winter woolly, Save the Children will be hosting a pop-up Mary's Living & Giving Christmas Jumper Day store on the night, which will stock a wide range of festive sweaters.
You can also pick up a jumper ahead of the gig from The Amazon Fashion UK Christmas Jumper Store. For every eligible Christmas Jumper [or Christmas clothing/accessory] purchased from the Christmas Jumper Store on amazon.co.uk and smile.amazon.co.uk, Amazon will donate 20% to Save the Children.