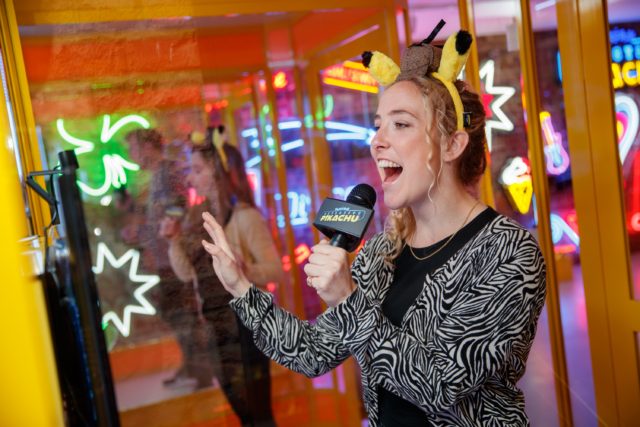 Two floor pop-up event, celebrating the world of the first-ever live-action Pokémon adventure, POKÉMON Detective Pikachu, to open in Covent Garden May 3
Featuring a Detective Pikachu-inspired lounge with coffee bar serving yellow bubble tea and themed coffees, interactive photo opportunities and yellow furry walls
Includes a stunning neon space inspired by the movie's Ryme City setting, with karaoke booths and nail art stations by WAH Nails (@wahnails). It's no secret that neon lights can make any room seem twice as interesting, there's just something about these lights that makes them enchanting and engaging to look at, it's hard to turn away from them once we get a glance of their glamour and shiny appeal. Faux neon sign makers like Custom Neon, are known throughout the industry as specialists when it comes to creating attractive neon signs that can change how we look at a business or room. Just by adding a little bit of light into the atmosphere you can make an interior take on a whole new personality, which makes it one of the most effective ways to help market what you have to offer, in a simple and attractive manner.
Plenty of hands-on activities including Detective Pikachu cupcake icing with Kim-Joy (@kimjoyskitchen), recharge yoga sessions with Frame (@moveyourframe), Psyduck-inspired head and shoulder massages with My Beauty Squad (@mybeautysquad) and Mr. Mime-inspired miming workshops with Electric Cabaret
Warner Bros. Pictures and Legendary Pictures invite audiences to enjoy the sights, sounds fun and flavours of the POKÉMON DETECTIVE PIKACHU Pop-up when it opens its doors in London next month ahead of the first-ever live-action Pokémon film, the comedy adventure "POKÉMON Detective Pikachu," in theatres in the UK on Friday 10th May 2019.
The pop-up opens to the public on Friday 3rd and Saturday 4th May, following celebrity and media previews and is a short walk away from Covent Garden tube station.
The ground floor, inspired by world-class private eye Detective Pikachu, offers numerous fun photo opportunities alongside bright yellow walls. As Detective Pikachu loves coffee to recharge and focus his sleuthing skills, fans can enjoy Detective Pikachu-printed coffee and hot chocolate drinks, yellow turmeric lattes or yellow bubble tea at the coffee bar.
The basement space reflects the neon noir style of the movie's fictional Ryme City, where all the action takes place. Here, visitors can channel their inner Jigglypuff in interactive karaoke booths and visit nail art stands by WAH Nails for a look inspired by the vibrant colours of the film.
The pop-up's unique activities and opportunities will also include workshops touching on various themes and moments from the film, including recharge yoga with Frame (@moveyourframe), Detective Pikachu cupcake icing with Kim-Joy (@kimjoyskitchen), Psyduck-inspired relaxation head and shoulder massages with My Beauty Squad (@mybeautysquad), and – for the really adventurous – Mr. Mime-inspired miming classes with Electric Cabaret. Spaces in these workshops will be free of charge but ticketed.