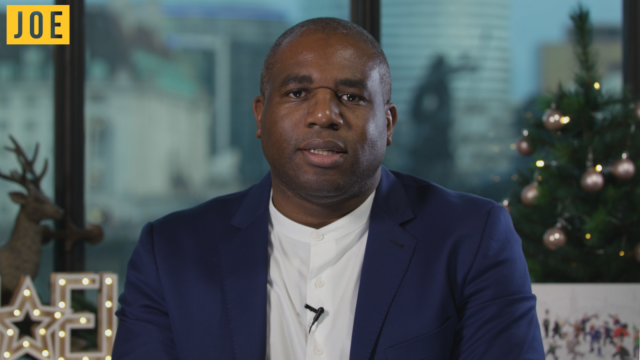 Ahead of the Queen's annual Christmas Message next week, JOE has released its own alternative Christmas speech, which was delivered by David Lammy, MP for Tottenham, former minister for higher education, and one of the most eloquent and socially conscious voices in Parliament.
The message is created and produced by JOE, who have built a strong reputation for its razor sharp, engaging and innovative political coverage.
WATCH THE FULL VIDEO HERE – https://www.youtube.com/watch?v=iDzD0hc8BWM
Last year, former Everton and Wales international goalkeeper Neville Southall teamed up with JOE for its first Alternative Christmas Speech. Gaining major traction across the UK, the message focused on kindness in tough times, and the importance of empathy and compassion in our communities. In 2017, Southall was on his own journey of personal growth and wider understanding via social media, and so was the perfect embodiment of this message.
This year, JOE has asked David Lammy MP to provide its 2018 Christmas speech. It focuses less on the good work presently being done, and more on the great things the nation has the potential to achieve.
Commenting on the message, David Lammy said: "I was delighted to be asked by JOE to deliver their Christmas message at the end of a tumultuous year. Despite the clear divisions in our society amidst unprecedented political uncertainty, it is vital we now remember our shared humanity and display it through togetherness and respect for all people, regardless of tribal allegiances. I hope and believe that 2019 can be a year where our country can renew around a shared sense of identity and pursuit of the common good."