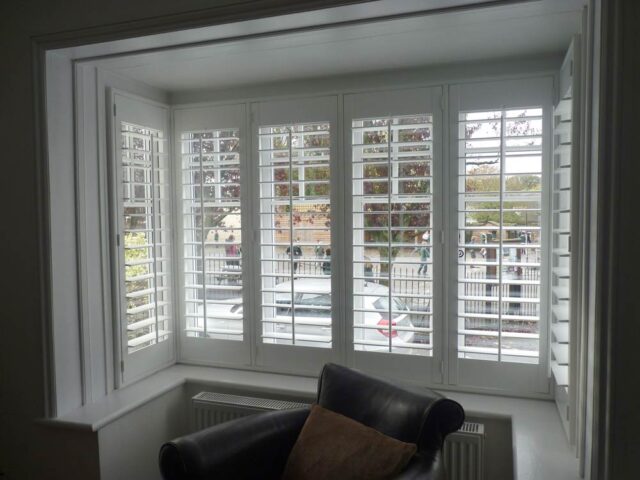 Did you know that 2018 was one of the UK's hottest summers on record? While 2019 may have been a bit of a wet weekend in terms of a summer, researchers have hinted that the next few years may be exceptionally warm too. And while we love a good summer, we wouldn't be true Brits if we didn't moan a little too right?
There's nothing worse than feeling absolutely stifled, even when you're in the shade in your own home. Thankfully there's a rather simple way to avoid your home getting too warm in the upcoming summer months and that's with the help of interior plantation shutters.
Enjoy An Additional Barrier With Window Shutters
Interior window shutters are a great way to help keep your home cool in the summer months, even here in the UK but before we explain about the great barrier window shutters can create, let's first take a look at why we need them. 
Let's face it, building materials and building methods are getting better and better as the years go by. For one, homes are now enjoying better insulation than ever before. Couple this with our much warmer summers and it's no wonder we feel like we're living in larger than life ovens for most of the summer season. 
What's more, with such inclement weather the rest of the year, the vast majority of us do not boast air conditioning units, which leaves us with very little help in the form of reducing the heat in the home. The only real area where Britons commonly seem to be interested in reducing heat gain is the conservatory, but oh how times are changing.
Diamond Window Shutters Can Help Reduce Heat Gain
With recent research by the British Blind and Shutter Association showing that a whopping 20% of homes across the UK find themselves prone to overheating, it's clear that there's a need for help. This is especially the case during hotter months when we walk out of our newly shaded conservatories and into the rest of our home where we find ourselves in a hot box throughout the day and night.
Thankfully the likes of Diamond Shutters, one of the UK's leading suppliers of window shutters, has you covered. How? Well, unlike curtains or regular fabric blinds, internal shutters can actually help reflect some of the sun's rays and energy. By their very nature, shutters allow you to keep them closed while still enjoying the light and privacy through the use of opening their slats. With the shutter frame still in a closed position however, a great deal of the heat you'd normally feel will be reflected instead of filling your home. Unlike blinds which you could argue could be used in a similar manner, shutters won't move during a breeze and are therefore much more effective at helping you keep the heat out of your home.
It really is as simple as it sounds. With high-quality window shutters, you could enjoy a cool home during the hot summer months that are coming and what's more, you can do so while enjoying some the best looking window dressings out there. If you'd like more information on reducing heat gain in your home with internal window shutters, simply contact Diamond Shutters today on 020 83022447.