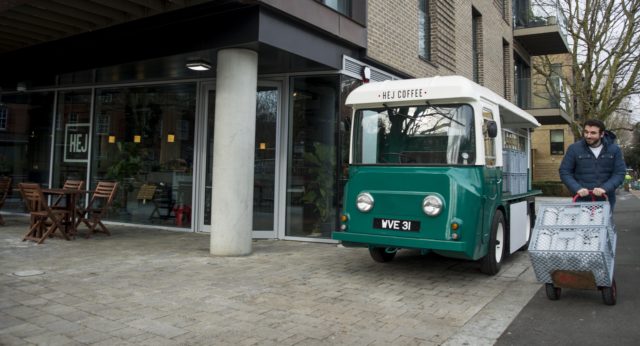 Locally developed Hej Coffee strive to bring a welcoming vibe to the fast-paced life of Zone 1 within the coffee industry, acting as a day-night destination for the community within Elephant & Castle. In line with the Scandinavian environmentally-friendly ethos, the business will be launching Ernie, the 1963 electric milk float designed to deliver sustainably-sourced coffee in reusable containers to help reduce waste.
This 'Ernie' service was derived in an effort to increase environmental awareness for local independent businesses, wholesale coffee consumers and co-working spaces. Supporting the local community and environment is at the centre of Hej's mission, so in using reusable containers that will cut down single-use plastic waste and an electric milk float for delivery that will reduce carbon emissions, Hej continues to show commitment to making change. Whilst taking away foil and plastic from the waste stream, Hej produces quality coffee whilst being kind to the environment.
To celebrate the launch of this new service, Hej Coffee are hosting an event in partnership with local businesses (including the likes of Remedy Kombucha, Diageo, Welbilt and Humble Crumble), serving delicious coffee cocktails in collaboration with Diageo and incredible 'Moving Mountain' B12 burgers, meatball sliders and Mac & Cheese will be served.