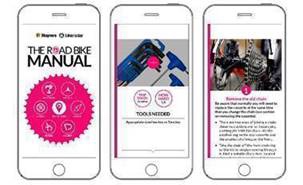 Publisher Haynes has teamed up with BikeRadar, the authority on bikes and cycling gear, to create the ultimate Road Bike Manual app for true cycling enthusiasts.
Based on Haynes' best-selling Bike Manual, The Road Bike Manual app provides an authoritative and trusted voice when it comes to step-by-step maintenance guides.  It also offers easy to follow videos and other handy content for any cyclist to digest when they're on the move.
Available now for tablets and smartphones, The Road Bike Manual App can be downloaded for just £2.99 from the iOS App Store and Google Play Store.
From the wheels to the cockpit, drive train, frame care and brakes, the app provides essential how-to information and advice for maintaining a road bike. Packed with handy information and pointers, plus invaluable roadside fixes, it features instructional videos that provide advice on how to fix a bike when it all goes wrong but the tools or parts required to fix the problem properly aren't available.
When it comes to roadside fixes, the app provides tips on how to fix chains, broken handlebars and an innovative last resort inner tube fix, plus much much more.
With over 30 years' experience working for and with Tour de France yellow Jersey holders, world champions, Olympians, world record breakers and countless elite athletes, Chaz Curry, who wrote the app's content, said: "In producing this app, I was keen to convey the techniques and 'trade craft' that have taken over thirty years for me to learn.
"Whilst most online content gives the user instructions on how to complete a project, they rarely highlight the finer points that allow you to complete the job efficiently and to a professional standard.  "By passing on this knowledge, I hope that the user will have the confidence to take on any of the tasks that I have covered in the app and come to enjoy fixing and maintaining their own bicycle themselves."
Dave Clutterbuck, BikeRadar's Publishing Director, added:  "There is so much information available to today's cyclist about bike repair and maintenance, but the quality and utility of this information varies massively.  This makes it difficult for people to find the right advice for them.  Teaming up with Haynes – a company that shares our heritage of world-class reader advice – has allowed us to create the best tool for cyclists, whatever their level of expertise."
With new content being added every month, The Road Bike Manual App will be a continuously updated product all for one low price – meaning that never before has Haynes offered its content so inexpensively.
Download The Road Bike Manual App now from the iOS App Store and Google Play Store.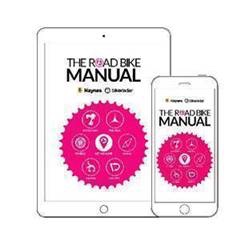 Alternatively, visit www.haynes.com for further information.