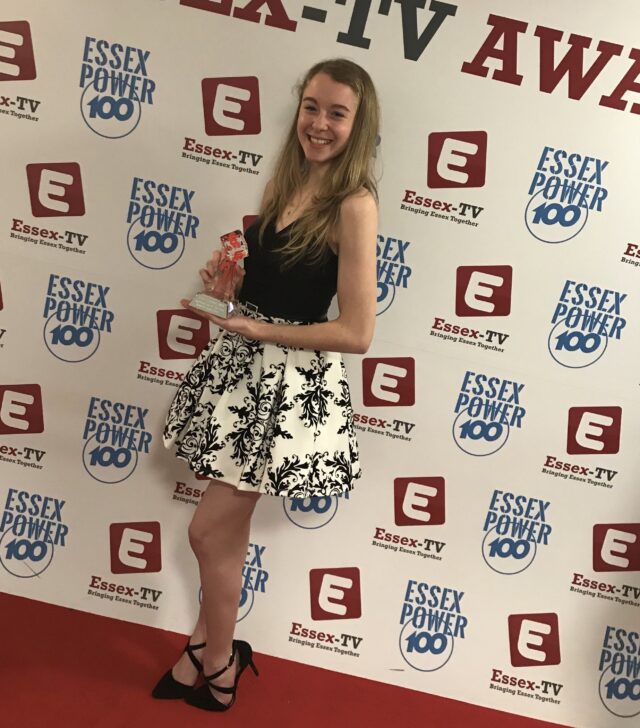 Teen Racing Driver, Emily, continued her winning streak by landing the top prize at the Essex TV Red Carpet awards evening in Epping on Saturday.
Linscott, from Basildon, Essex, was surprised to learn she had been shortlisted for the Essex TV "Sports Person of the Year" award when they contacted her about it. The other two athletes shortlisted were a Paralympian and a Team GB Gymnast, so I never really thought I had much chance of winning the title, Linscott said, somewhat shocked by her latest accomplishment.
Incredibly, the talented youngster has proven herself to be a worthy winner, having taken podium places both sides of the Atlantic in Formula Race Cars and GT cars her in the UK, even winning back to back races at the last round of the season at Brands Hatch. She them followed that up by winning the title of Active Basildon's "Young Sports Personality of the Year" just two weeks ago.
She will be hoping her winning ways continue as she flies to America to compete at the 2019 Cooper Tires Scholarship Shootout at the world famous Sebring International circuit in Florida, where she hopes to win big once more and claim the top prize of a full season in the 2020 Lucas Oil Formula Car Series. Emily's states, 2This won't be an easy competition! I know I'm up against some of the best young drivers from cars and karts in the USA so |I'm going to need to be at my very best. There's no room for error here, you're either on it or out of it. I've done everything I can to make sure I'm as ready as I could be so it's down to my performance over the three days, both on and off track and then the judges need to do their bit. I really hope I can pull this off, it would mean the world to me and I'd be so proud to have paid back a tiny bit to my parents, my sponsors and Pippa Mann (Indy 500 Driver) who have all shown so much faith in me over the past couple of years. Let's see what I can do, I will keep you informed."
Her schedule for the week in the States is al expected with Emily, very hectic. She flies to Florida on Saturday. Sunday she will be at the track for some reconnaissance work, Monday is her b17th birthday but instead of taking it easy, she'll be in the gym and practicing her media and strength work. Tuesday for three days she competes in the shootout competition, followed immediately by a flight to Indianapolis to meet manufacturers and potential sponsors for meeting about next season over the next two days. She then leaves for home on Monday the 16th and back to college on the 17th, followed by two days training with the Mintridge Foundation before finishing the week at college and a well-earned rest for Christmas. A gruelling schedule indeed!