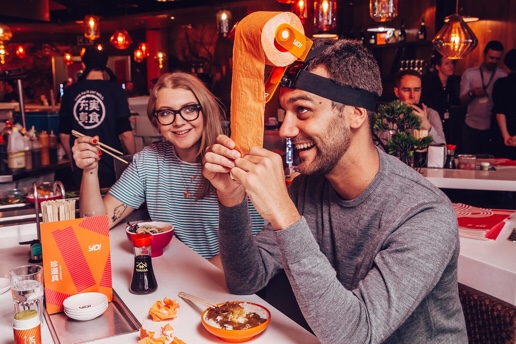 Ever suffered from burning your mouth on your ramen's steaming hot noodles, or a messy soy sauce stain down your white shirt? YO! has a useless gadget to fix that!
The Japanese sushi and street food favourite, YO!, is bringing the art of Chindogu, "useless inventions", to the UK to offer a helping hand with your dining issues. Chindogu, the brainchild of 72-year-old Japanese inventor Kenji Kawakami, are gadgets to solve everyday issues that aren't usually thought to be worth solving.
Home of the quirky and forward thinking, Japan has created many gadgets over the centuries. Those who have made the Chindogu Hall of Fame include the 'Train Nap Cap', to keep commuters from slumping on someone's shoulder mid-sleep, and the 'Baby Mop', to ensure parents' floors are sparkling clean as their babies crawl along. The now much-loved, bestseller selfie stick was even deemed a useless gadget back in 1995 after making it into the book, 101 Useless Japanese Inventions.
The YO! Chindogu menu pairs each gadget with their perfect dish accompaniment to give diners a unique eating experience they never even realised they needed. Order YO!'s delicious Dumpling Miso Ramen noodles and see how the 'Noodle Splash Guard' stops your luscious locks getting dipped in broth.
To keep your hot Spicy Seafood Udon from burning your lips, the 'Noodle Cooler' gadget will cool down noodles just before they reach your mouth with its electrical fan. Test out the range of YO!'s other wacky gadgets when you order from the Chindogu menu.
To experience the Japanese art of Chindogu, head to YO!'s Kensington and Southbank restaurants, and YO! Newcastle Grainger St. From Monday 19th to Sunday 25th March, when you order off the Chindogu menu you'll be served up a unique Japanese gadget invented by YO! – useful or useless… you decide!