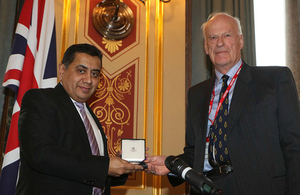 At an event at the Foreign & Commonwealth Office hosted with the Israeli embassy, the Foreign Secretary Boris Johnson, Communities Secretary Sajid Javid, Archbishop of Canterbury Justin Welby, Chief Rabbi Ephraim Mirvis and Israeli Ambassador Mark Regev, will gather to honour heroic men and women with the British Heroes of the Holocaust medal.
The award, whose previous recipients include Sir Nicholas Winton, recognises those Britons who undertook extraordinary acts of courage and self-sacrifice, in order to help Jewish people and others.
Foreign Secretary Boris Johnson said:
The moral conviction and bravery of the British Heroes of the Holocaust should fill us with pride.
These exceptional individuals saved hundreds of lives and went above and beyond the call of duty in the most difficult circumstances to do the right thing.
As a government we are committed to ensuring that society learns the lessons of the Holocaust so that bigotry and prejudice are given no place to take root.